Print Solutions for Form Fill Sealers
The high resolution InteliJet TSP printer from BELL-MARK provides a versatile and cost-effective, coding and marking solution for Vertical Form and Fill Sealers (VFFS). The units can be bolted into almost any VFFS machine with very little effort.
No traversing or ribbons to deal with
Lowest cost solution available
Millions of prints before cartridge change
Expandable design - 1 to 20 lanes
Fits new and retrofit FFS machinery
With no unreliable and expensive shuttling system, no complex ribbons to change and with a small footprint, a modular design with no moving parts to consider, the print solution gives maximum uptime with almost no maintenance.
Simple and Solid Printer Integration
Replaces all Other Printers
If you have used other print technologies, then you know how costly it can get. Why pay more when you can get better throughput, zero maintenance, simple installation and guaranteed performance.
CIJ - No shuttling heads, no mess, no smell
TTO - No ribbons, no replacing of print heads
Laser - No high upfront hardware costs, no extraction systems
Better Throughput / Better ROI
The Print System can be running in a matter of seconds with the minimum of user intervention, always ensuring maximum productivity. With TIJ based print heads from BELL-MARK, you see only the ink you print.
Maximum uptime, zero downtime
No maintenance costs
Reduced consumable costs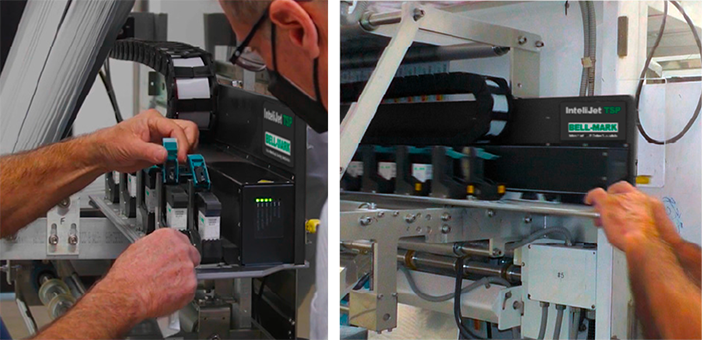 Rapid replacement of cartridges
Access to TSP via slide mount
Simple Integration
Installing an InteliJet TSP into a new build or retrofit is a matter of providing a mounting plate for the slides to affix. Often the existing film path can be used with no additional rollers required.
Upgrade simply with minimal engineering
Slide mount allows for external cartridge access
Ideal for New-Build or Retrofit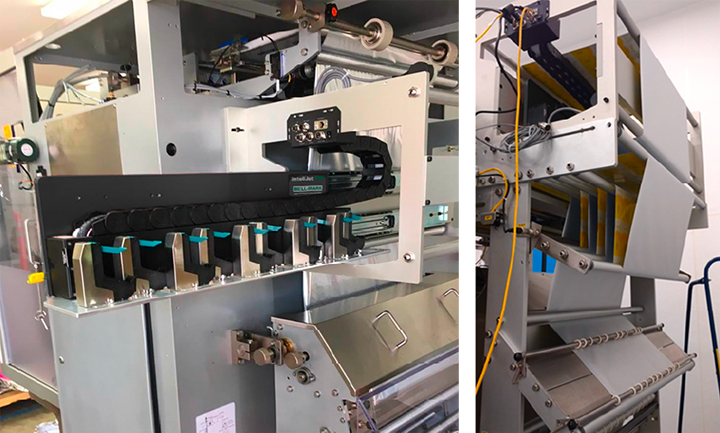 Easy integration into existing equipment
One Solution for all FFS Applicationss
Print Specifications
| | | | |
| --- | --- | --- | --- |
| Model | Max Foil Width | No of Lanes Supported | Unit Size |
| TSP600 | 600mm | 4 to 10 | 686mm x 210mm x 191mm |
| TSP800 | 800mm | 8 to 12 | 866mm x 210mm x 191mm |
| TSP1000 | 1000mm | 9 to 14 | 996mm x 210mm x 191mm |
| TSP1200 | 1200mm | 13 to 20 | 1270mm x 210mm x 191mm |
Horizontal Resolution
Max Speed
m/min
ft/min
600 dpi
46
150
300 dpi
76
50
150 dpi
152
00
Maximum Print Width
Maximum Print Height
Maximum No. of Lanes
Space requirements for installation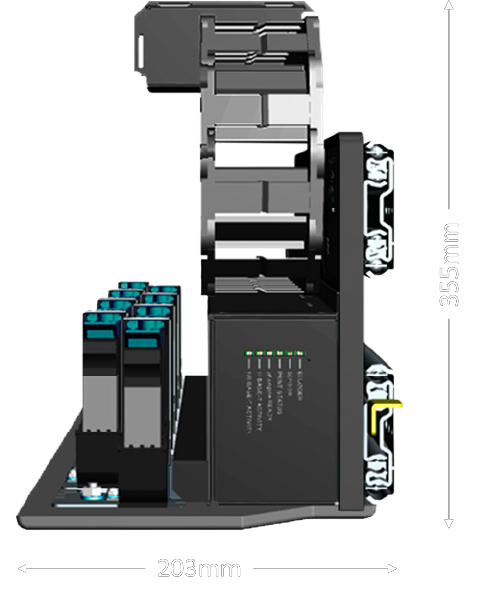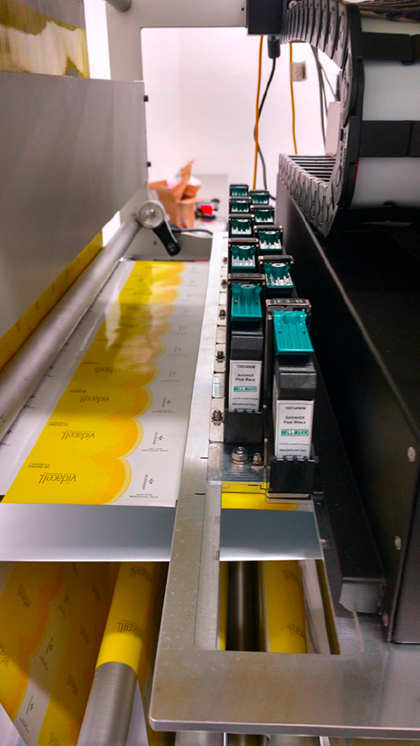 Ink Usage Estimates
The following gives an estimate of the number of prints you can expect from a single cartridge, based on what you are printing.
For more information, contact your BELL-MARK sales representative.
Font Size
Example
Print Resolution
No. images per cartridge
9pt
JAN 07 2023 08:15
300 x 300
580,000
10pt
LOT 66G7
EXP 07 JAN 2023
300 x 300
260,000
12pt
USE BY 07 JAN 2023 7D 5766
300 x 300
185,000
18pt
JAN 07 23
H7788857
300 x 300
104,000
32pt
01/07/23 08:15 A
300 x 300
52,000
N/A
300 x 300
73,00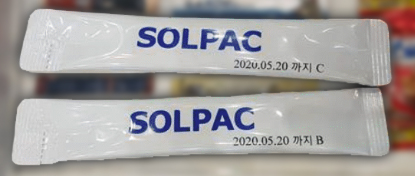 Remote Training & Support
BELL-MARK printers include remote training & support at no additional costs, only requiring an internet connection.